Looking for an exciting ICT or Cyber Security opportunity, or Jobs in Canberra?
Our team provides candidates with expert, unbiased and free advice at crucial points like when changing jobs, or transitioning from the military. We strive to be your trusted partner and assist you throughout your career.
It is this ethos which resulted in VSG becoming a finalist in the 2021 and 2022 RCSA Industry Awards for the Excellence in Candidate Care Category and the Excellence in Social Purpose award.
Read the RCSA Article 'The Brief'
Market leading salary packages
Exclusive security clearanced job opportunities
Professional upskilling pathways
Strict confidentiality
24 hour response time
Honest feedback
Transparent process
Ongoing career support
​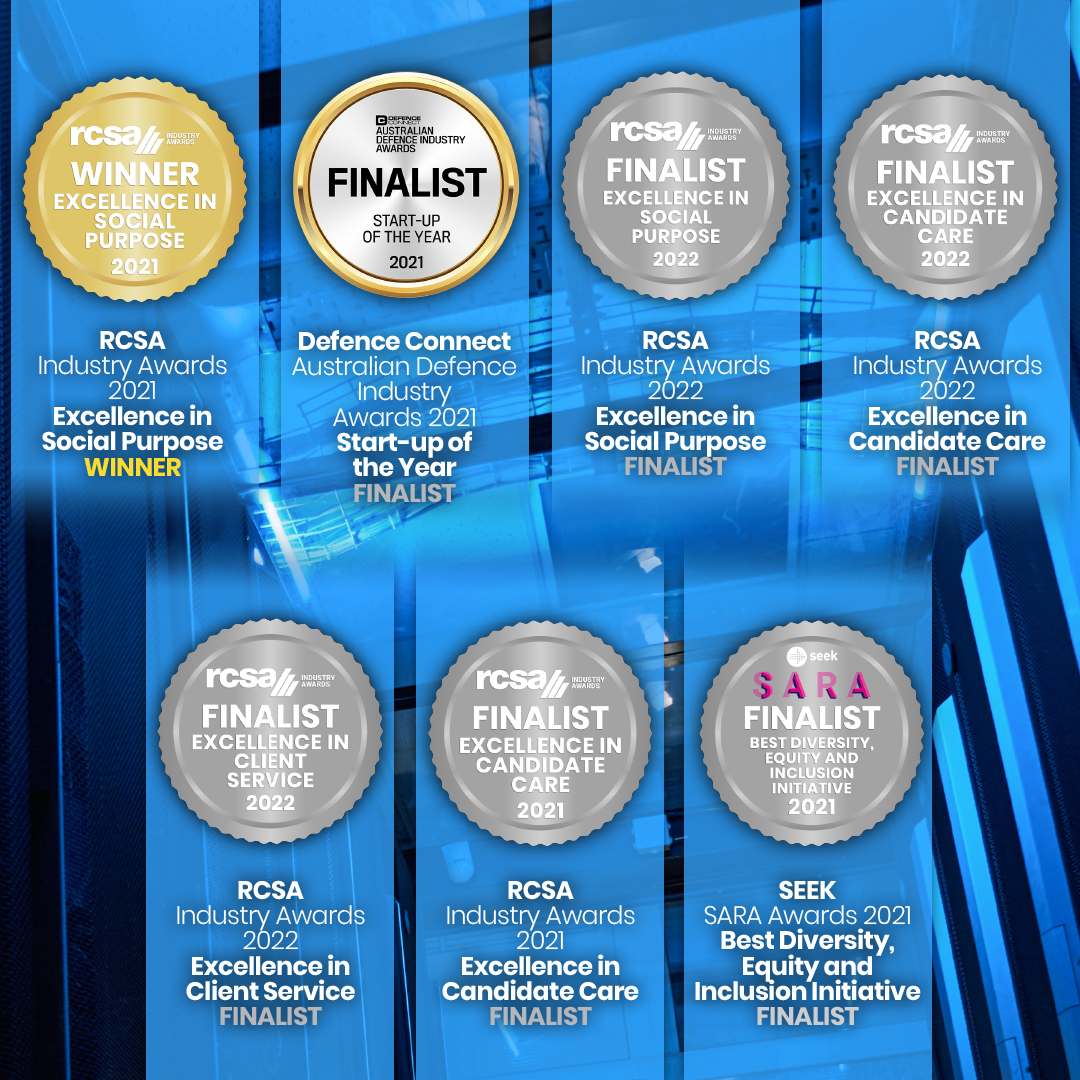 1. Get in touch, submit your CV

Interested in working with us?

Seen something which has piqued your interest?

Has one of our consultant's head hunted you for an opportunity?

Keen to explore security cleared employment?

Want to join our consulting team?

Contact us on 1300 447 377 or fill out a Contact Us form with your CV, and a dedicated consultant will be in contact with you within 24 hours to organise next steps.

2. Seen a job you like, simply apply

You've seen a job that sounds interesting, and you want to explore the opportunity further with us?

Simply apply, and a dedicated consultant will be in contact with you within 24 hours to organise next steps.

Take the time to review our free resources and tailor your CV to the opportunity you are interested in. Make it clear, concise and relevant.

3. Let's chat

If you're aligned to the position you've applied for and/or working with VSG generally, we'll organise an interview with you once we've reviewed your application and CV. All candidate applications receive feedback on whether they were successful and advice on how to improve.

4. VSG consultant interview with you

We are interested in learning about you. We take the time to understand your interests, motivations, career aspirations and goals. We want to ensure a strong match between what you are seeking and what our clients offer. We will provide you with our recommendations and honest feedback!

5. Confirmation of representation

We both agree that this opportunity is right for you and worth pursuing. You give us your authority to advocate on your behalf and represent you to our client. We always obtain your written permission and explicit consent first before representing you to our client, as well as create your personalised VSG Cover Sheet which articulates why you are the perfect fit.

6. Criteria responses

After you've spoken to one of our consultants, we may ask you to complete a synopsis on yourself or complete criteria responses. Criteria responses are more typical in government related processes and used as a further assessment to confirm your suitability as part of the application process. Your dedicated consultant is here to advise and assist you.
7. Client interview

The client is impressed and wants to organise an interview with you. We coordinate all the details and ensure you and comfortable and prepared. We get you ready by providing you our comprehensive interview guide and conducting a detailed pre-interview briefing to answer any of your questions and make sure you're ready!

8. Interview de-brief

Once the interview is done, you call us immediately whilst the interview is fresh in your mind. We conduct a detailed debrief with you so that we understand how you are feeling now about this opportunity as well as provide feedback to the client to improve your chance of success.

When we pass on your feedback to the client, we also cover of any loose ends, and address any concerns or queries that you may have. We want to ensure that you have put your best foot forward at every stage. We will notify you with the client's feedback as soon as we receive it and aim for it to be within 3 days of the interview. We will also organise any further interviews and keep you involved throughout the whole process.

9. Reference checks and security clearance

Our client is interested and wants to hire you. As part of the hiring process, we will contact a minimum of two references that you have supplied us and may require you to provide further information relating to your suitability to obtain/maintain a security clearance.

All screening processes are undertaken in line with Australian Standards AS4811-2006 Employment Screening as per the Defence Industry Security Program (DISP) requirements.

10. Offer

We're in your corner and here to advocate on your behalf to secure the best outcome. We understand your requirements, have already communicated these to the client, and now we secure you the best offer we can. This is done in full consultation with you so you are always aware of what we are doing on your behalf. Once negotiations are finalised and you are happy, we coordinate your Letter of Offer and mange the contract logistics for you to make the process as smooth as possible.

11. Resigning from your current role

Resigning can be difficult. We make sure you are equipped to do this and prepared. We provide you a resignation template as well to make this as easy as possible for you.

12. Ongoing support

We're always here for you, even after you've commenced your new position. We will call you during your first week to ensure you are settling into your new role and to understand if you anything further from us or your new employer. We will also reach out to you at key milestones to see how you are travelling and we are always here to provide you with career advice and support. We're only a phone call away at any stage.
Vertical Scope Group (VSG) are a security cleared specialist, providing end-to-end ICT and cyber security consulting services to federal government and corporate clients. We also specialise in Canberra jobs, including offensive security, defence jobs, TSPV, NV2 and NV1 roles.
Operating nationally, we are 'Government Ready', possessing a Defence Industry Security Program (DISP) membership, a Supply Nation Certified Indigenous Australian supply chain, are a proud veteran employer, signatory to the Prime Minister's Veteran Employment Program, and 100% Australian owned and run.
We want you to join our award-winning team and help us deliver on our promise to be an expert, trusted and reputable provider of security cleared and cyber security consulting services.
Fortnightly Pay Cycle

Excellent Pay Rates

Superannuation Payments

Free Payroll Management

DISP Membership

Security Clearance Sponsorship

Regular Security Training

Streamlined Onboarding

Exclusive Upskilling and Training

Annual Re-Signing Bonus

Full Insurance Coverage ($10M PI, $20M PL, WC)

CV and Criterion Support

Interview Coaching

Industry Leading Assignments

Dedicated Point of Contact
VSG is passionate about building capability around our people. We actively collaborate with our ICT and Cyber Security consultants on new business opportunties, invest in their professional development and support their hobbies to ensure they are physically, mentally and academically ready to succeed in their Canberra jobs. ​
Who we work with
ICT & Cyber Security Experts

Security-cleared Professionals

Veterans

Indigenous Australians

Industry Leaders

National Intelligence Community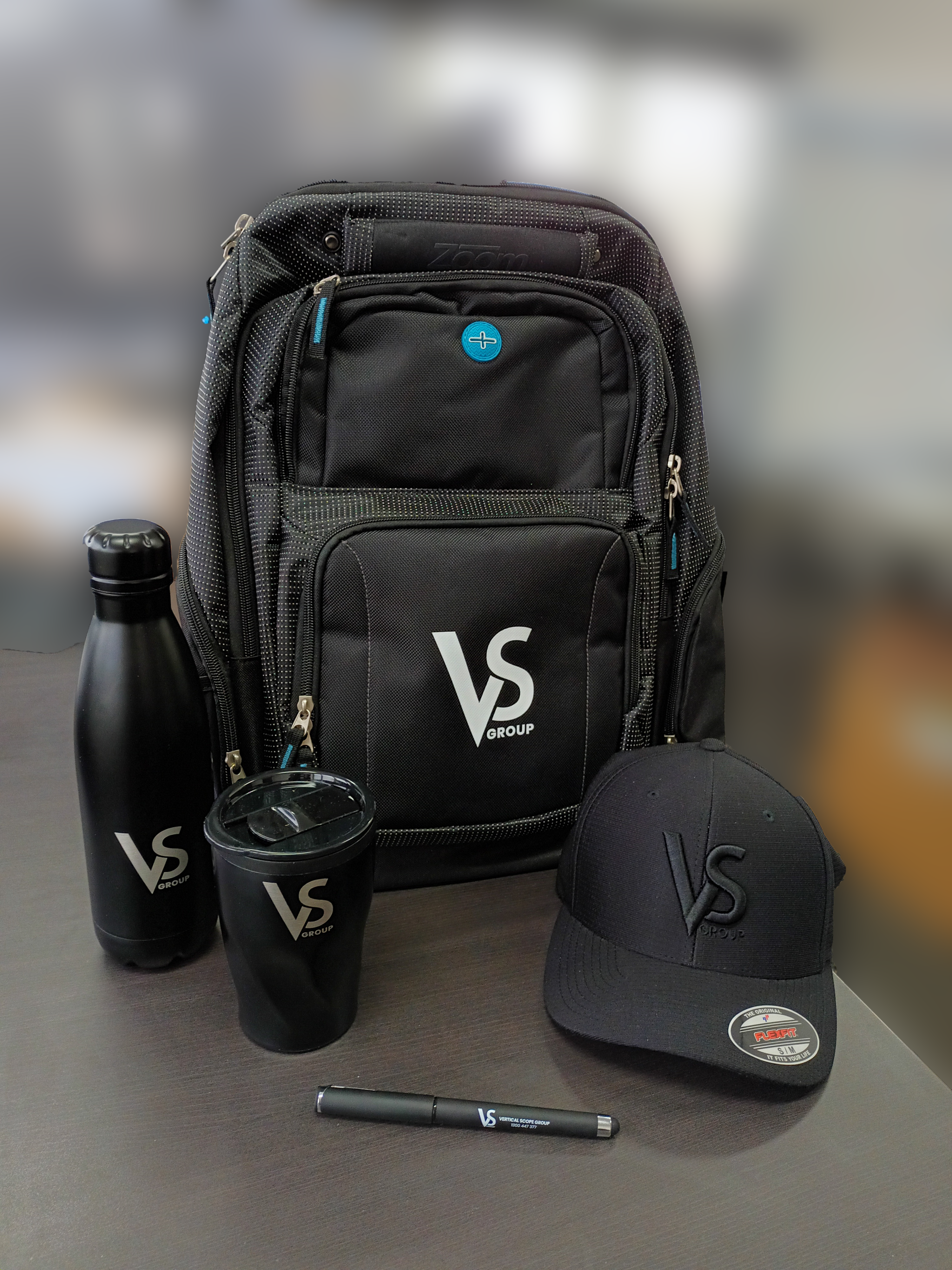 ​Developing our ICT and Cyber Security Consulting Team
People are our greatest asset. We strongly believe in having a highly skilled and fulfilled workforce which is why we invest in your ongoing professional development.
All employees and consultants receive an annual Training Bonus which can be used with one of our RTO partners to gain qualifications in Project Management, ICT, Business Analysis and Engineering.
Pearson

​Pearson is the world's learning company, with expertise in educational courseware and assessment, and a range of teaching and learning services powered by technology. Their mission is to help people all over Australia make progress through access to better learning. They believe that learning opens up opportunities, creating fulfilling careers and better lives.

Churchill Education

​VSG have partnered with Churchill Education to offer our WorkPath Australia participants access to nationally recognised qualifications. Since 2006 Churchill has been assisting transitioning veterans to convert their military experience into civilian qualifications through Recognition of Prior Learning (RPL).

International Institute of Business Analysis

​The International Institute of Business Analysis (IIBA) is a leading global provider of ICT< cuber security and Business Analyst certifications. VSG have partnered with the IIBA to provide participants with access to the latest certifications and exams to be fit for purpose for employment opportunities.

ILX Group

​ILX Group have assisted us with organising training and bespoke solutions for our employees and contractor personnel. ILX deliver ICT and cyber training to people in 97 countries across 5000 organisations world-wide and has offices in the UK, Australia, New Zealand, USA and the United Arab Emirates.

Pro Leaders Academy

​VSG have partnered with Pro Leaders Academy, who are an Australian Registered Training Organisation and a leader in government procurement, contract management project management, business management and leadership development with over 30 years of professional training and consultancy experience.

Transformed

VSG has partnered with Transformed, ​Australia's leading Registered Training Organisation that specialises in delivering nationally recognised, world-class training and accreditations.

The Rogers Group

​The Rogers Group and VSG's provider of personnel assessments, psychometric testing and selection services. They offer the broadest range of psychometric tests available, backed by a tailored consultation approach that is second to none.
As a security cleared specialist, a significant number of opportunities are Canberra jobs, located in the Capital of Australia, and the nation's epicentre for government and defence jobs.
Due to the nature of our clientele, many of our positions require applicants to possess a security clearance.
VSG are a proud DISP member and enabler of veteran employment.
Candidate FAQ
Why should I use a recruiter?

Finding your dream job can be difficult, securing it can be even harder. VSG can act as your advocate by utilising our extensive experience with government, defence, and corporate clients to help you access the roles available on the hidden job market. We also manage the recruitment process for you, helping you prepare your CV, refine your interview skills and transition into your new role. By using us, you give yourself the best chance of success.

What does becoming a contractor involve?

Becoming a contractor means you have the ability to control your remuneration, the types of projects you work on and how long you work for. Because contractors are self-employed, they need an Australian Business Number (ABN), and may be responsible for their own superannuation, insurances, and taxation obligations. Typically, contractors are employed for a shorter period of time and earn a higher rate of pay in lieu of employee entitlements. To make contracting easy, VSG provide professional indemnity, product liability, and workers compensation insurance to our contractors.

How long does the recruitment process take?

The recruitment process varies on a case-by-case basis. Depending on the client's requirements, the process can take anywhere from 2 weeks to over 6 months. VSG will keep you updated each step of the way and let you know how your application is progressing.

Should I apply for a specific job via the VSG website, or apply directly?

Either option is fine with us! However, candidates who have applied for a specific role via our website are immediately entered into that job process so will be prioritised.

What happens when I submit my CV?

Once you submit your CV, one of our consultants will review your application and provide some immediate feedback. We may interview you and create a VSG profile which highlights your relevant skills, experience and education. We use this profile to determine suitable roles which are aligned to your career objectives and bring these to your attention. We take your privacy seriously. VSG will never release your CV or details without your explicit written consent. At all times, your personal information is treated in accordance with the Privacy Act 1988 (Cth) and at any time, you can request your details to be removed/deleted from our system.

Does a robot manage my application?

No. Unlike generalist recruiters, we assign an experienced consultant to manage your application and answer your questions.

How do I keep up to date with job opportunities?

With so many different job platforms, it can be hard to target the ones you're interested in. Register for our Job Alerts and our newsletter, The Scope to help set your sights on the latest security cleared job opportunities.

When will I hear back after I've applied?

We adopt a holistic approach to candidate care by incorporating it into every stage in our recruitment process. Once you've applied for an opportunity, we will respond to you within 1 Business Day and outline the next step in our recruitment process. All candidates receive a dedicated Success Manager whose role is to maintain an open line of communication with you and guide you to your next employment opportunity.

Will I get feedback if I'm unsuccessful?

Absolutely. All VSG candidates receive feedback in the event they are unsuccessful. This occurs in both the application and interview stage. We aim to pass client feedback onto you within 3 business days once we have been notified of an outcome concerning your initial representation or subsequent interview. As a relationships based company, and we will also provide you with "unbiased advice" and assistance to help you find meaningful employment. This includes providing support throughout the whole process with your CV, criterion responses and interview coaching ect..

How do I keep up to date with job opportunities?

With so many different job platforms, it can be hard to target the ones you're interested in. Register for our Job Alerts and our newsletter, The Scope to help set your sights on the latest security cleared job opportunities.

What does being a named personnel mean?

VSG frequently responds to local, state, and federal government tenders, known as Approaches to Market (ATM), Request for Quotation (RFQ) or Request for Information (RFI). As part of this process, we are often required to submit a team of highly skilled and suitable individuals that we will utilise if we are successful in winning the tender. We contact our professional network and candidates to create the team that will work with us and deliver. If you are listed as named personnel, it means we have discussed the opportunity and VSG have selected you to be represented in our tender submission and you have agreed to be put forward as VSG named personnel.

How and when do I get paid?

VSG require all contractors and causal employees to submit their approved timesheets at the end of each time period (usually fortnightly, sometimes weekly or monthly), within three business days of time period ending.

We treat our casual employees and contractors like our permanent employees. You be paid on a regular day, typically on a fortnightly basis, to your bank account. You will also receive a detailed pay slip which clearly states your rate of pay, and if appropriate, your amounts of deducted superannuation and PAYG tax withholding.
Security Clearance FAQ
What is a security clearance?

Certain government projects require individuals to possess a high level of integrity and immunity to influence or coercion. In Australia, this level of integrity is measured by a security clearance. A security clearance indicates that an individual possesses honesty, trustworthiness, maturity, resilience, tolerance and the loyalty deserving of gaining access to sensitive information.

Who is eligible?

Only Australian citizens with a verifiable background are eligible for an Australian Government security clearance. Applicants must provide evidence of their citizenship and provide independent, reliable verification for time spent outside of Australia.

How can I get a security clearance?

All security clearances require a sponsor. Usually this is a government agency or an organisation with a Defence Industry Security Program (DISP) membership as individuals cannot sponsor their own clearance. VSG are a DISP member and have the ability to sponsor our own internal employees. We can also facilitate the security clearance process for professionals looking to obtain a security clearance through our DISP partner. Our DISP partner guides you through the process, will sponsor your clearance and manage any ongoing security training and administration in exchange for an annual fee. If you are interested in obtaining a security clearance, please submit an Expression of Interest below and we will pass your details onto our DISP partner.

​

What is the DISP?

The Defence Industry Security Program (DISP) is a Defence run program designed to make it easier for corporate organsiations to support the Defence industry by sponsoring security clearances up to Negative Vetting 2 for employees. To become a DISP member, organisations must implement a series of strict physical, personnel and ICT security policies, procedures, standards and controls.

What is the security clearance process?

The security clearance process involves conducting a series of checks to determine your suitability to access sensitive information. It involves an investigation into an individual's background and character. You must have a sponsor (either the Government, or your organisation) to be eligible for a security clearance. Simply put, you need a reason to be security cleared.

There are four (4) different clearance levels ranging from Baseline to the highest level - Positive Vetted (PV). The higher the security clearance level, the process is more detailed, time-consuming and invasive.

| Clearance level | Level of ongoing access permitted | Level of conditional Access |
| --- | --- | --- |
| Baseline | Classified resources up to and including PROTECTED. | ​ |
| Negative Vetting Level 1 (NV1) | Classified resources up and including SECRET. | NV1 security clearance holders can be provided with temporary access to TOP SECRET classified resources in certain circumstances. |
| Negative Vetting Level 2 (NV2) | Classified resources up to and including TOP SECRET. | An NV2 security clearance will be sufficient for most roles requiring intermittent access to TOP SECRET classified resources. |
| Positive Vetting (PV) | Classified resources up to and including TOP SECRET, including some caveated information. | PV clearances should only be sought where there is a demonstrated need to access extremely sensitive information, capabilities, operations and systems. Entities should first consider whether an NV2 clearance would meet the position's requirement for a security clearance. |

https://beta.defence.gov.au/security/clearances/about/overview​

How long does the security clearance process take?

Below is a general guide to the timeframe for each clearance level:

Clearance level

AGSVA issues vetting pack

Applicant completes vetting pack

AGSVA completes vetting assessment

Baseline

5-10
business days

​20 business days

​20
business days

Negative Vetting Level 1 (NV1)

5-10
business days

​20 business days

​70
business days

Negative Vetting Level 2 (NV2)

​5-10

business days

​20 business days

​​100 business days

Positive Vetting (PV)

5-10
business days

20 business days

​180 business days

https://www1.defence.gov.au/security/clearances/about/vetting-time-frames

What level of security clearance do I need?

The level of clearance required will vary on a case-by-case basis. In Australia, the security clearance level will vary depending on the extent to which the individual will be directly or indirectly exposed to sensitive or classified information. You may also require a higher security clearance if you are in a position of trust or for specific roles within government departments.

What occurs during the vetting process?

Obtaining a security clearance is not easy (as outlined above). Your application will be vetted to assess your suitability and maturity to hold a clearance and if approved, you will be subject to ongoing monitoring to ensure you maintain the integrity needed for your clearance. At any time, you can withdraw your application by contacting the relevant body managing your application at that point in time.

Can I have multiple security clearance sponsors?

Yes, you can have multiple sponsors of your security clearance. This can occur if you are working across multiple programs or supporting a government department as a subcontractor. Under the DISP, you are required to inform your sponsors of any changes in circumstances or if any concerns arise which may impact your clearance.