​
Looking for Security Cleared Consultants?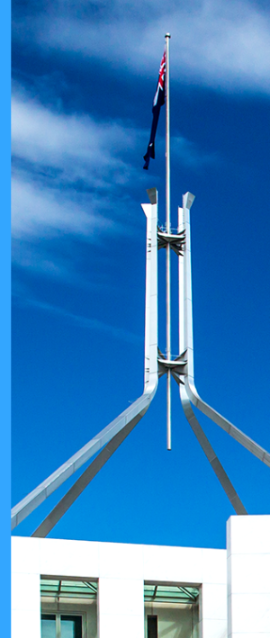 VSG are an award winning, trusted, reputable and expert, security cleared specialist, providing consultancy and recruitment services to government and corporate clients.

Our Consulting team is comprised of former defence members, Australian Public Service, National Security and Law Enforcement professionals, specialising in ICT, cyber and STEM fields. They bring inter-agency, multidisciplinary experience and are committed to the mission of protecting Australian and its national interests and achieving our client's desired operational outcomes.
Our leadership team maintain regular engagement with all of our consultants and ensure all of employees embody our values, share our vision and possess the capability to achieve our mission. All of our consultants are security cleared and vetted extensively in line with Australian Standards AS4811-2006, the Defence Industry Security Program, and Fair Work Standards.
Our consultants are trusted to deliver across a diverse range of programs including complex transformation projects, security operation centres, defence force facilities, critical infrastructure and integrated geospatial centres. VSG consultants utilise Australian, ISO and Defence ICT principles, frameworks and standards, using technology to deliver agile solutions within critical high side and low side environments. We possess the capability to manage and support ICT projects throughout their lifecycle, from inception to development, build, integration, evaluation and deployment stages.
​
How We Support our Team
All of our employees are security cleared, highly qualified and accredited, possessing industry leading qualifications. In addition to this, we offer our team ongoing professional upskilling through our award winning WorkPath Australia (WPA) program and Registered Training Organisation (RTO) providers, ensuring our teams formal qualifications are up to date, and they remain at the forefront of their chosen profession.
We offer:
| | | | | | | | |
| --- | --- | --- | --- | --- | --- | --- | --- |
| Competitive salaries | Flexible work-life balance | Generous study and training support | Loyalty and bonus program | Goal-based career development and planning | Interesting and challenging work | Recognition and rewards | Paid leave (study, reservist etc) |
It is these advantages which allow us to attract, retain and sustain our extensive network of consultants, including direct access to 700+ PV cleared professionals.
​
What experience and education do our consultants possess?
Government Project Experiences
| JP2047 Tower Lead Tactical interfaces (TACINT) Programme
| SEA1000 Attack Class Future Submarine
| DEF7013 Phase 4 Tranche 2
| Cyber Resilience Task Force
| Australian Cyber Security Centre Change Management
| Australian Army Cyber Threat Intelligence (CTI) Cell
| National Security Committee of Cabinet Briefs
​
Experts
We employ Australia's best and brightest professionals to deliver our consultancy services.
Our team includes strategic leaders with the highest qualifications in the country, and our consultants have even written some of the standards and certifications we adhere to, when servicing our clients.
​Trusted
VSG is a 100% Australian owned and operated consultancy firm.
As a DISP member, and veteran employer, we understand the mission criticality of the programs we support. Our consultancy team are all security cleared, and come from military, national security and law enforcement backgrounds. Our consultants are strongly aligned to the mission of defending Australia from threats and our team are committed to advancing Australia's national interests.
Reputable
​VSG is a highly accredited organisation, adopting Australian and Global Standards ensuring our services are delivered to the highest standards.
​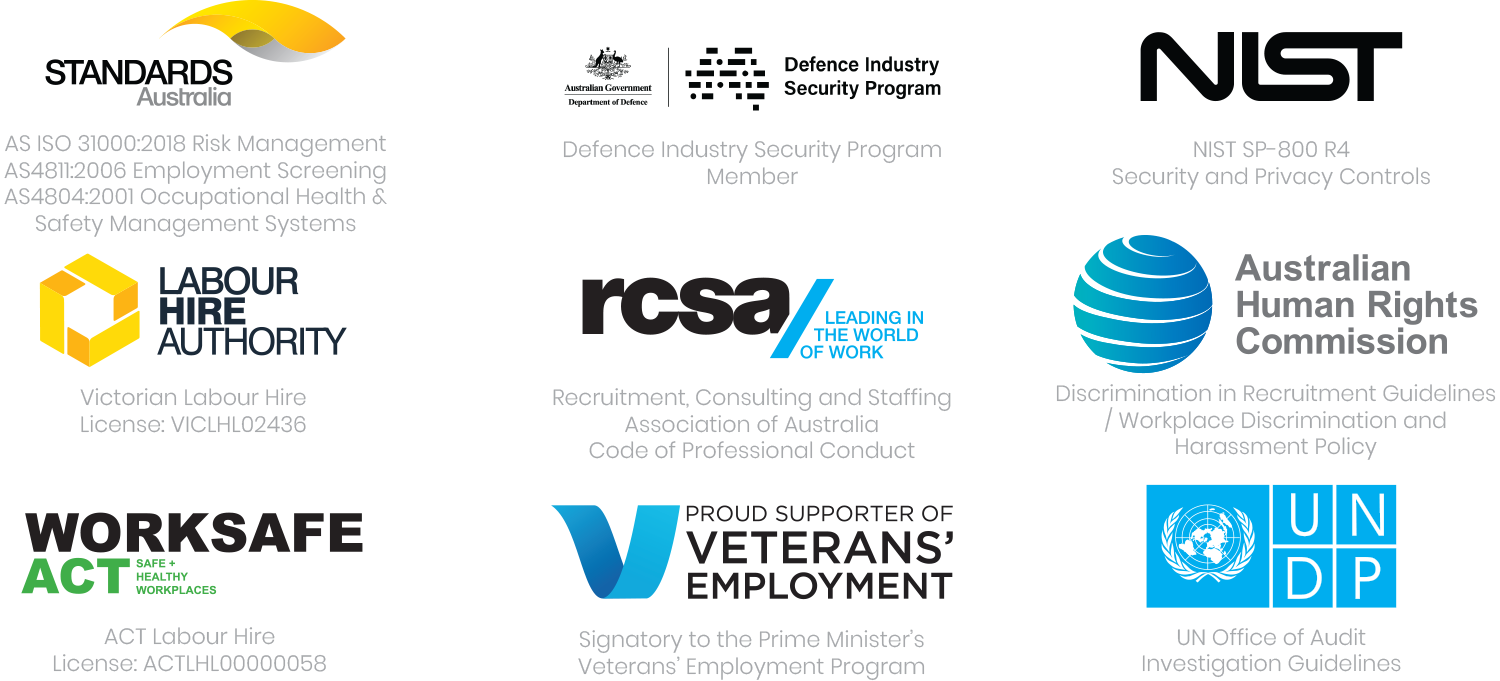 ​
Proven in ICT
VSG have a track record of providing specialist consultancy services to the Commonwealth and corporate clients. We combine Australia's most experienced consultants with emerging technologies to stay ahead of market trends and ensure our team are constantly upskilling to stay ahead of the unprecedented information convergence which is occuring in Australia. Our team use their service delivery experience to directly support clients design and implement the latest ICT solutions.
We deliver these ICT solutions to a number of department and agencies within the Australian Intelligence Community including the Attorney General's Department and the Department of Foreign Affairs and Trade, the Australian Signals Directorate and others, in addition to supporting joint Australian US military bases and facilities.
​
Our Key Business Divisions
​

CONSULTANCY

​

​

RECRUITMENT

​

SPECIALIST

|

Proven ICT project delivery

|

Integrated life-cycle approach

|

Stakeholder engagement

|

Value for money solutions

|

Security-cleared workforce

|

Government and defence industry




ready

​

|

Expert/specialised

|

Executive srarch

|

Board search services

|

Recruitment process outsourcing

|

Capacity demand management

|

Dedicated talent pools

​

|

Direct access to 700+ TS PV consultants

|

Indigenous Australian supply chain

|

Psychometric testing

|

Board advisory services

|

Bid management and tender




teaming

|

Veteran transition services
​
​ICT Consultancy Domains
Assisting our clients to deliver their projects within the constantly evolving ICT and cyber landscape.
​VSG are specialists in ICT and Cyber capability. Our extensive network and diverse team enable us to deliver programs of national significance for our corporate and government clients.
Some of the specific ICT categories our multi-disciplinary team provide services for include:
| Agile delivery and Governance
| Business Analysis
| Change and Transformation
| Cloud Architecture, Engineering and Administration
| Customer and Service Desk Analysis and Support
| Cyber Operations
| Cyber Resiliency
| Cyber Security
| Digital Transformation
| Emerging Technologies
| Geospatial Information Systems Analysis and Development
| Integrated Systems
| ICT Systems Integration


| ICT Risk Management & Auditing Activities
| ICT Organisation Uplift
| Support and Operations
| Platforms Integration
| Project Management
| Reverse Engineering
| Security Operations Centre
| Service Integration and Management
| Software Engineering and Development
| Solution Architecture
| Strategy and Policy
| Training & Development
| User Research and Design
By selecting VSG, you ensure that the consultants you engage are experts, trusted and reputable. Our team have the ability to work autonomously or integrated into your workforce, and can perform an extensive range of complex technical and professional work activities. A recent example of this was our involvement as a teaming member for one of Australian Government's largest ICT Transformation Programs where we were selected by the Prime to deliver all consultancy requirements. Throughout this program which continues, we assisted the team of tier 1 providers to have the personnel required to deliver this critical government project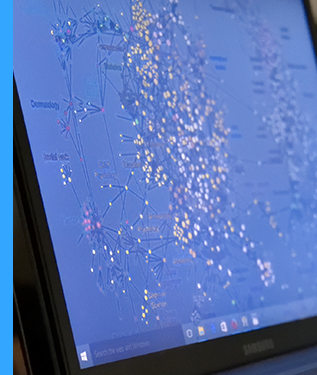 Cyber Spotlight
Cyber is the future of Australia's defence industry and sovereign industrial capability. Our country is in the process of developing a world-class offensive and defensive cyber capability to help manage the constantly changing geopolitical and strategic environment. We are at the forefront of this expanding domain, providing industry leaders to our customers, training future cyber experts through our WPA program, and expanding Australia's pool of security cleared professionals. ​We are excited to be apart of the nation's largest ever investment in cyber and assist our clients in delivering new capabilities.
Delivery Advantages
We do more than just fulfill panel requirements for our government clients, we create and deliver high performance teams who blend in with our customers and deliver complex, multi-year programs and outcomes.
Award-Winning Service




| Industry-leading team

| 100% Australian owned

| Proud veteran employer

| Leading diversity and inclusion programs

| Peak body awards for excellence in service delivery, innovation and social purpose

​

Bespoke Solutions




| Agile delivery response

| Tailored consultancy team based on customer requirements

| Extensive network of consultants across Australia

| Consistent stakeholder engagement

| Dedicated Point of Contact

​

Enabling Sovereign Capability

| All consultants are Australian Citizens

| 100% security cleared workforce

| Victoria, ACT and NSW Offices

| $10M PI and $20M PL

| Peak body and outreach membership

| 100% Australian owned
​
Consultancy Service Delivery Process
1.
Planning & Discovery
Prior to commencing a project, we meet with our client to develop a clear understanding of the task, the organisations goals, their intended aims, targeted end-state and conduct a capability and capacity analysis to identify the resources which are needed for a successful delivery.
We then jointly align on the key pain points/challenges and propose effective solutions. Typical deliverables at this stage can include a detailed project plan which outlines our proposed delivery model.
At this preliminary stage, we assign a dedicated point of contact to work with the client full-time. Their role is to maintain clear and concise communications with the client and our consultants to ensure a seamless delivery.
2.
Commencement
Our team begin creating and delivering a project plan which forms part of our team's project framework. During this stage, our consultants establish support processes, procedures, identify capability and capacity requirements, and engage with stakeholders to ensure their buy-in and manage accountability across multiple teams.
As the project progresses, our team provide regular reports in addition to the weekly stand up meetings our leadership team conduct with all of our consultants.
3.
Solution Development & Delivery
The VSG team continues to build and test the agreed upon solution. This includes regular reviews and process improvements to ensure deliverables meet contractual and performance standards.
Throughout this stage our team provide recommended improvements to stakeholders for their consideration and our Executive Team continue to monitor the program and our team to ensure the services delivered are to the highest standard.
4.
Final Delivery & Knowledge Transfer
The end-project goes live and our teams focus switches to providing support and maintenance. Our team work with your staff to ensure they have the resources, knowledge and continuity management, to take over your solution and maintain it moving forward.
We submit a Final Report outlining the tasks which have been completed and work with Government or Corporate teams to ensure appropriate Knowledge Transfer has occurred.
Case Studies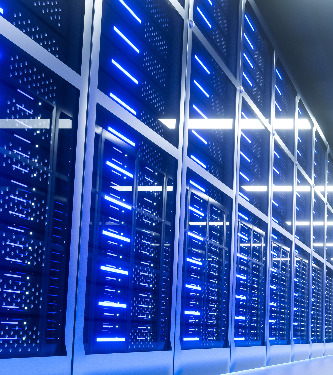 FEDERAL GOVERNMENT TRANSFORMATION PROJECT
In 2020, VSG were invited by a leading defence prime, to be a teaming member on a large $500 million Federal Government ICT Transformation Project. Following a competitive tender process, we were successful in winning all six of the programs work streams, and we were given responsibility of providing Application Developer, Solution Architecture, Azure Technical, IT Infrastructure, Business Analyst, Database Administrator, Platform Engineer, Program Managers, and Software Engineering consultants.
To meet this extensive demand and scale our services appropriately, VSG developed a dedicated talent pool comprised of over 200 ICT professionals across Australia and utilised our WPA Program to create a pipeline of suitable professionals to service this program. Following this activity, we shortlisted and built a comprehensive team consisting of over 40 consultants to assist with the delivery of the program over multiple years.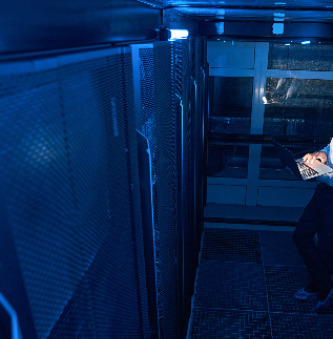 GLOBAL SECURITY OPERATIONS CENTRE RESOURCING
Throughout 2019, our CEO David Jam provided several highly skilled PV cleared Software Engineers to one of our United States clients based in Australia. This activity resulted in their United States parent company approaching VSG to provide them with 28 qualified ICT and cyber personnel for their international Security Operations Centre (SOC).
In response, we completed a detailed, trans-national talent pipeline market map and successfully interviewed and secured over 28 SOC consultants who were subsequently screened, vetted, and found suitable by our client. Although this activity was heavily impacted by the Covid-19 pandemic, VSG demonstrated that we could successfully build a multifaceted and highly skilled team comprised of the information security and cyber leads from banking, finance, critical infrastructure, software and security firms.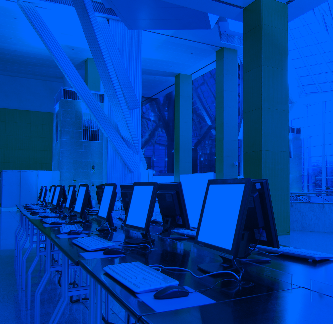 AGILE DELIVERY & GOVERNANCE
At the height of the COVID-19 pandemic in 2020, VSG provided Agile Delivery and Governance consultancy services assisting a prime with the delivery and management of an ETO Technology Sub-Programme. Our team were tasked with ensuring the delivering of the Sub-Programme within an extremely short timeframe while complying with a broad variety of legal and regulatory requirements including the organisational suitability assessment (OSA) process, the Protective Security Policy Framework (PSPF), the Commonwealth Criminal Code Act 1995 (Cth), and Work Health and Safety legislation.
Our consultants began a consultative process within the multi-vendor environment to create and establish an overall governance framework, which aligned the project's milestones with the security and WHS processes which had been impacting the delivery timeline. Our team ensured that the prime successfullt delivered the program in a short timeframe, meeting the client's expectations whilst complying within the strict security and regulatory requirements.
Quality Customer Care

VSG consultant's pride themselves on delivering expert, trusted and reputable services. To keep our team accountable, we have incorporated Industry, Peak Body and Government standards into our holistic delivery approach, which has led to us receiving a high number of positive Google Reviews and being listed as a finalist in the 2021 and 2022 RCSA Industry Awards for the Excellence in Candidate Care, Excellence in Client Care and Excellence in Social Purpose Categories two years in a row.
This industry leading customer care is complimented by our recruitment services where we provide clients with the workforce, and capability they require to successfully deliver their projects. Our services are tailored to each specific client, incorporating their culture and vision into our process. This integrated approach is combined with our dedicated talent pools which distinguishes us from other organisations.